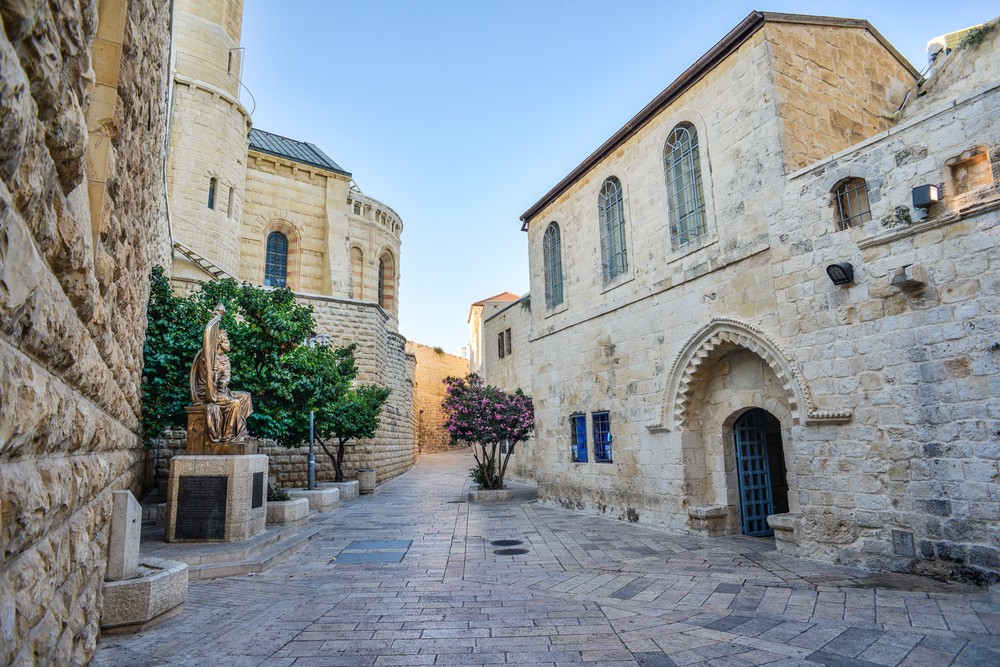 Old City of Jerusalem (Shutterstock/File)
By Tanita D. Rahmani
The initial anticipation to sign the Comprehensive Economic Partnership Agreement between Indonesia and Australia recently dwindled as Scott Morrison, Australia's Prime Minister, announced on Nov. 12 that "there's no rush" to sign the deal. The shift came after multiple strong condemnations from Indonesia on Morrison's flag to relocate its embassy in Israel from Tel Aviv to Jerusalem. Given Indonesia's forbearing disposition in its international affairs, its censure meant only serious.
Indeed, support for the Palestinian struggle for statehood has been one of Indonesia's most emblematic foreign policies for years, and keeping Jerusalem to its special international status is part and parcel to that support. The Palestinians themselves, at least after the 1967 war, consider the city as its future capital city. That's why in light of the United States' embassy relocation from Tel Aviv to Jerusalem last May, not only did dozens of Palestinians themselves fall into martyrdom, the Palestinian authorities also brought its first ever case against the US before the International Court of Justice (ICJ) in September.
There are many reasons why Indonesia may be infuriated by Canberra's unprecedented plan. Australia's recognition of Jerusalem as Israel's capital may have been upsetting because of that emotional connection that many Indonesian have with the Old City. Or perhaps Indonesia wants to reciprocate to Palestinians, among the first to recognize and support Indonesia in our early days of statehood.
Or perhaps Indonesia believes in the cause of independence for Palestinians, owing to the historical anti-colonial movement that Indonesia's forefather led in Bandung in 1955. Or perhaps it is because of all of them. As Australia's closest neighbor and one of its most strategic ally, it is understandable to constitute this move as an act of betrayal against a dear friend.
But beyond these valid reasons, what makes Australia's announcement disturbing is because unlike recognition from small states like Guatemala, which followed the US in moving its embassy, recognition from a country like Australia, if carried out, is impactful enough to create irreversible ramification to Palestine. Even when Australia has never been and probably cannot be a key player in the Israel-Palestine peace talks.
Statehood does not rest on mere existence. A diplomatic mission is the currency to obtain that status. Where one's mission is established validates the territorial boundaries of a state and recognizes the functioning government; they are the formal recognition that an entity needs to enjoy the privileges of becoming a state. Yet, how many missions does one need to ascend to that status? Indonesia, along with 136 other countries, has recognized the state of Palestine. The city of Ramallah and Jerusalem are home to over 40 foreign consulates to Palestine, and the Palestinian authority has opened 98 embassies abroad and sends missions to various international fora. Yet its status remains inchoate.
Apparently recognition from developed, western, and "virtuous" states has, unfortunately but ultimately, become considerable capital for a state's successful establishment. In the past, Kosovo's independence and statehood were not challenged by the ICJ because more than 90 states recognized Kosovo, including the US and United Kingdom.
On the other hand, entities claiming independence -- such as South Ossetia and Abkhazia from Georgia -- have never fully been admitted as a state due to the very limited number of recognition and the fact that no powerful states have recognized them, save for Russia, which has not really enjoyed the association of being a virtuous state, for whatever reason.
That's why Australia's recognition matters for the two-state solution that it earlier claimed to commit itself to. Sweden became the first major European country to recognize the Palestinian state in 2014. However, its move has not inspired enough courage or will among other major European states to follow, although many of them have had missions and deployed representatives in Ramallah.
Meanwhile, US President Donald Trump's move to relocate its embassy for Israel to Jerusalem has been difficult to block. This is despite the United Nations Security Council resolutions No. 242 and 338 that affirm that Jerusalem belongs to neither the Israeli nor the Palestinians until negotiations have been concluded, and although the principle not to recognize a disputed territory exists under international law.
In fact, Australia is itself the proof why its future recognition matters. While no other European countries have laid out their plan to follow the US, PM Morrison has nevertheless. As a politically and economically powerful country which still enjoys relatively good reputation in its global affairs, Australia's acknowledgment of Jerusalem can further spur other powerful countries to enjoin its course of action. It leaves Palestine in further jeopardy if the shared narrative is that an embassy relocation would end the protracted conflict between Israel and Palestine, as claimed by both Trump and Morrison.
As Norman Finkelstein, a renowned scholar and activist on the Israeli-Palestine conflict, once wrote, there is a huge power that lies in the court of public opinion. While Indonesia's recognition of another state may not be as impactful as that of the US or Australia, nor are we a key player in the Middle East peace process, the very act of persistent condemnation counts as a useful capital that helps create public opinion; opinions that may have just managed to upend the plan of the big and powerful.
***
The author is a political and policy researcher at Indonesia In-Depth, a podcast on Indonesian issues. As a student researcher at Cambridge Palestine Trek, she conducted a research trip to Palestine with several other selected students from the University of Cambridge.